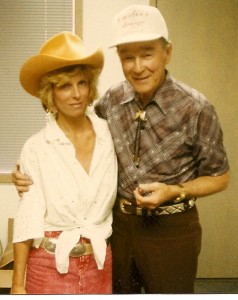 Through the sagebrush
Tumbleweeds carom in the wind
Like lost souls.
A coyote's lonely howl
Echoes down rocky canyon walls
In harmony with the mourning dove.
Into this American landscape
Rides a fair man on a golden horse.
The sunrise
Carries the song of his soul
Like a joyful noise.
The Idea of the West
Lives in the heroic block of his Stetson.
And the faith and trust
Of children everywhere
Rest on his shoulders light as air.
It was a deal he made with himself.
The King of the Cowboys …
Just a man
With a good heart
Who rode into the sunset.
For my Godfather
Roy Rogers
with much love
C CINDA 1989

Read about my mom, former RKO actress, Linda Hayes, and Roy Rogers on the set. Also, find out about my novel, "Francesca of Lost Nation," and its companion song, "Stories They Could Tell."