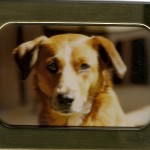 You may purchase this poem for $3, a portion of the proceeds will be donated to my local animal shelter.
Buy Now
What would Babe say …
I was born into this world with a purpose
which you suspected from the moment that we met.
That's why everything felt right and it was cherish at first sight
when you became my master and I became your pet.


You behaved just like a mother and a father
and replaced the family that I'd left behind.
I was frightened at first, expecting the worst
but soon I learned to trust you – you were so nurturing and kind.


How I remember the day we fell in love …
when we looked into each other's eyes and knew
that no matter what the future might bring,
you were meant for me and I was meant for you.


Both of us have made some big mistakes
which led to ups and downs, to highs and lows …
like me escaping through the gate or you getting home too late –
but all that was forgotten and forgiven long ago.


Now my span of years is winding down.
Though you're still growing up, I'm growing old.
And you have so much left to be – so you must take this oath for me:
That you'll keep finding joy in living long after I am cold.
Our final parting will make the angels weep
but I have one last request and here it is –
promise you won't let me die with strangers at my side …
but hold me till I'm gone, then release me with a kiss.


This separation we are facing was designed
by The Creator, who always gets it right.
Though we've adored one another, I was meant to go before you –
because I still have one last task – to see you safe in Paradise.


When your life is over and it comes your turn to cross
from this life to the next through the Gate at Heaven's Ridge
I will be there waiting to make sure you don't get lost.
I'll be your guide across the Rainbow Bridge.


Yes, we will be together once again
this time for forever, my dear friend
Look for me outside the Gate at Heaven's Ridge
and side by side we'll cross the Rainbow Bridge.
Dedicated to Babe The Wonder Dog, with all my love
c CINDA 1999